The optical bagpipes
a-pipes is a new concept of electronic bagpipes set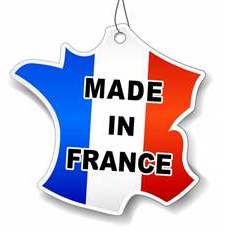 Ask for information
Pricing & order
Conceived and designed by an engineer and piper, author of BagPipe software,
the a-pipes ("alien pipes"), is an electronic bagpipes set based on optical fingering detection and designed to play in all environments, even with dry fingers and whatever your level.
a-pipes outputs high quality sounds on its built in 3.5mm jack plug.
Just plug it to your headphone, earphone or amplifier.
Entirely made in France in an artisanal way.
Absolute realism
You play the electronic bagpipes exactly as with your acoustic instrument : real holes, including same diameter and spacing than on a standard chanter. You can also plug the a-pipes into your acoustic bagpipes set's bag and play in real situation (the a-pipes produces the same air leak than a chanter plus three drones).
The real sound of bagpipes
Plays great Highland bagpipes sound (drones separate), but also smallpipe in A, gaïta in C, gaïta in Bb and practice pipe. Sounds are based on real samples at HIFI quality (44100Hz)
Impresive autonomy
More than 37 hours of continuous playing with a single AAA battery
Wireless communication
Play over radio (with the 2GHz radio or Bluetooth addons).
Full setup
Configuration from a computer or an Android smartphone through USB, Bluetooth or radio.
And also all the standard functions
Hearphone jack 3.5 output
The little world of a-pipes
Basic configuration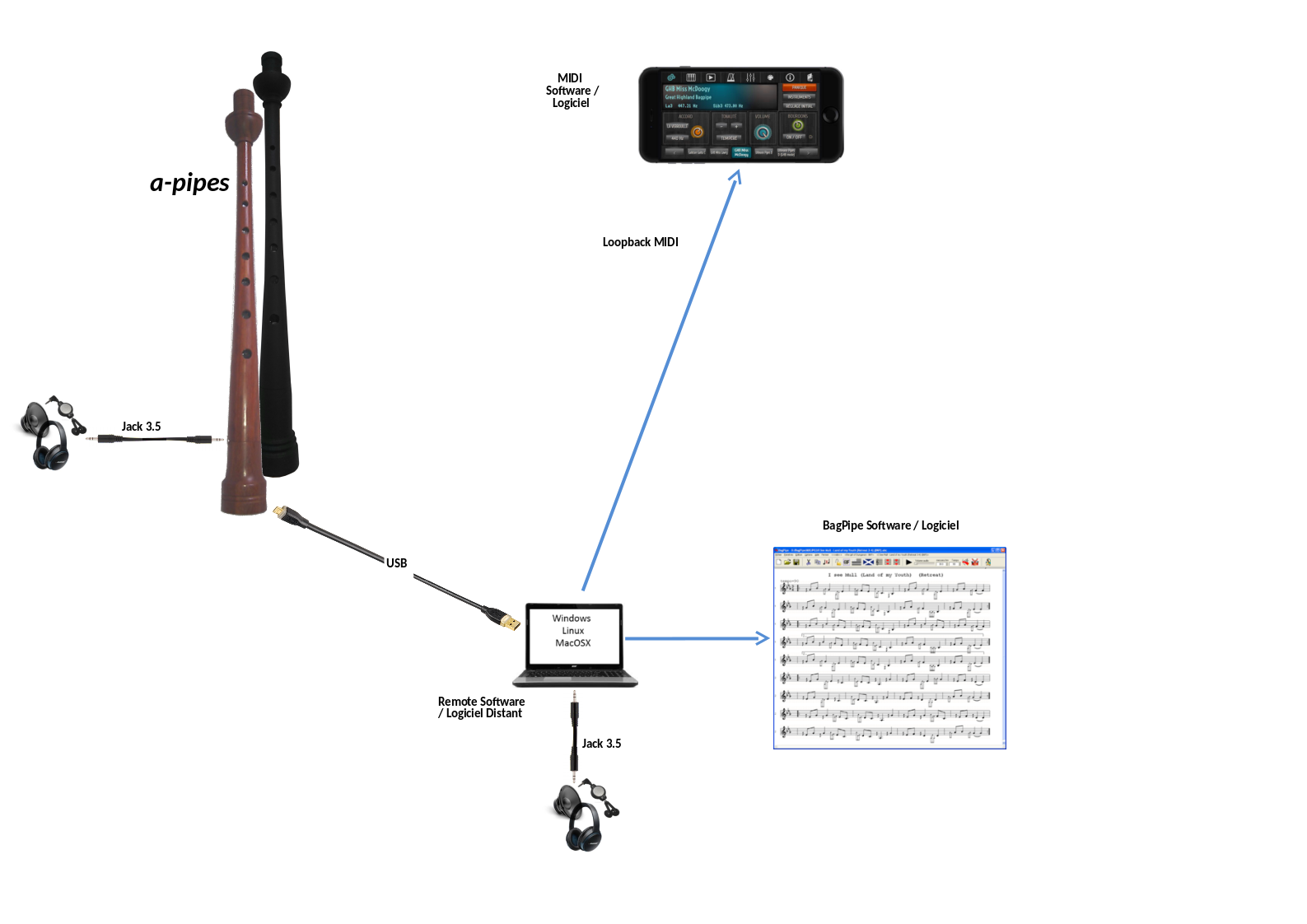 OTG option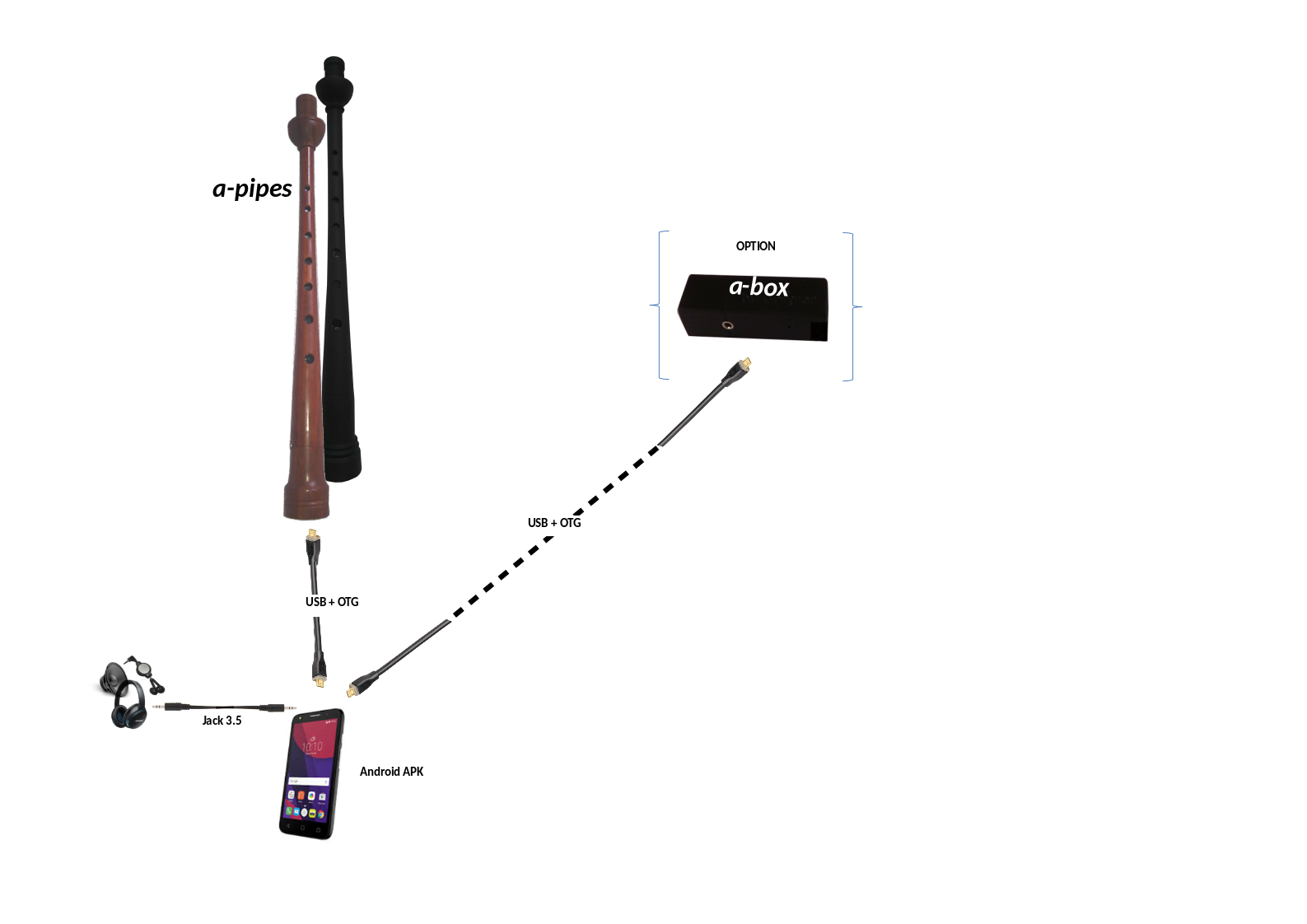 Bluetooth option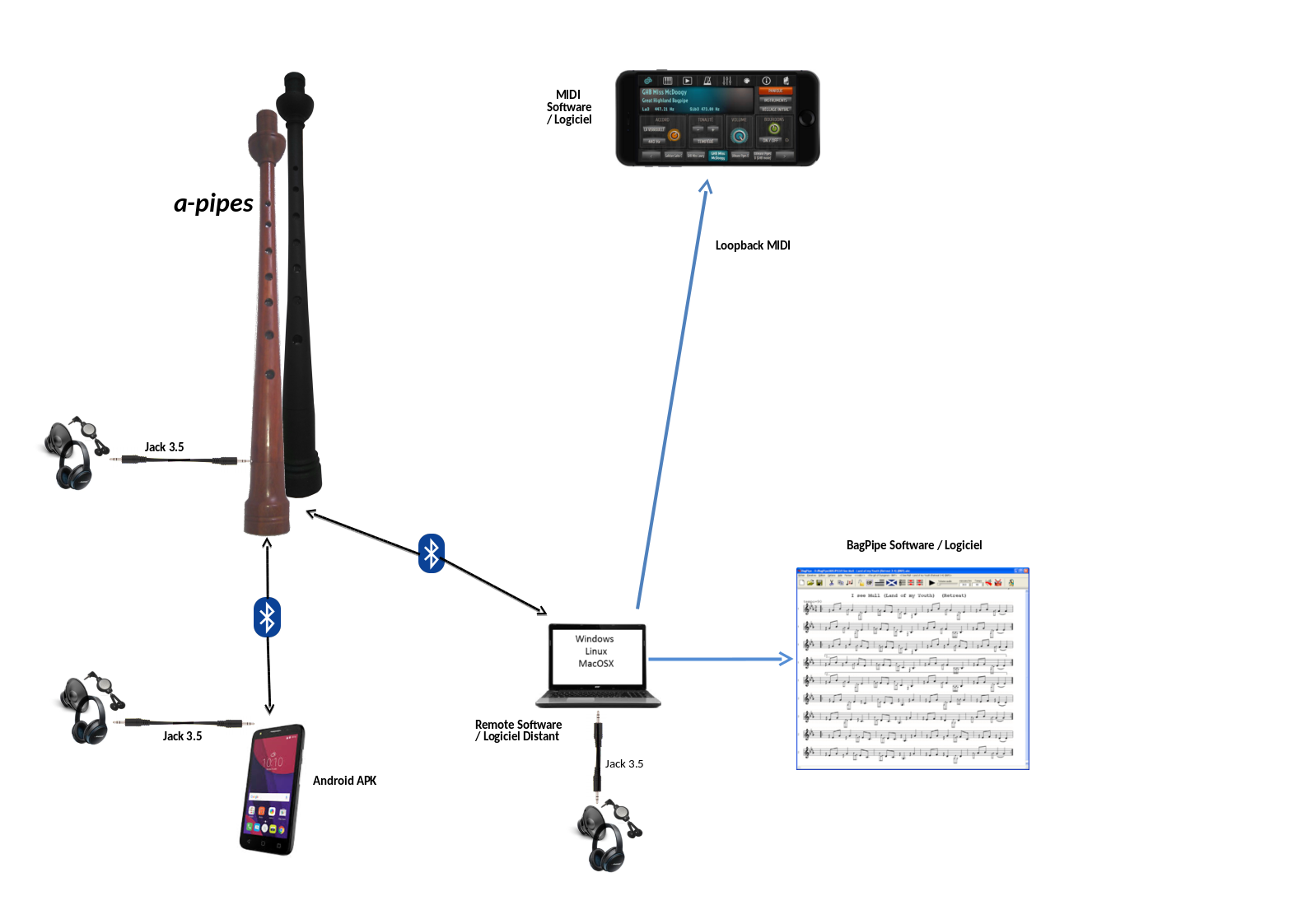 Radio option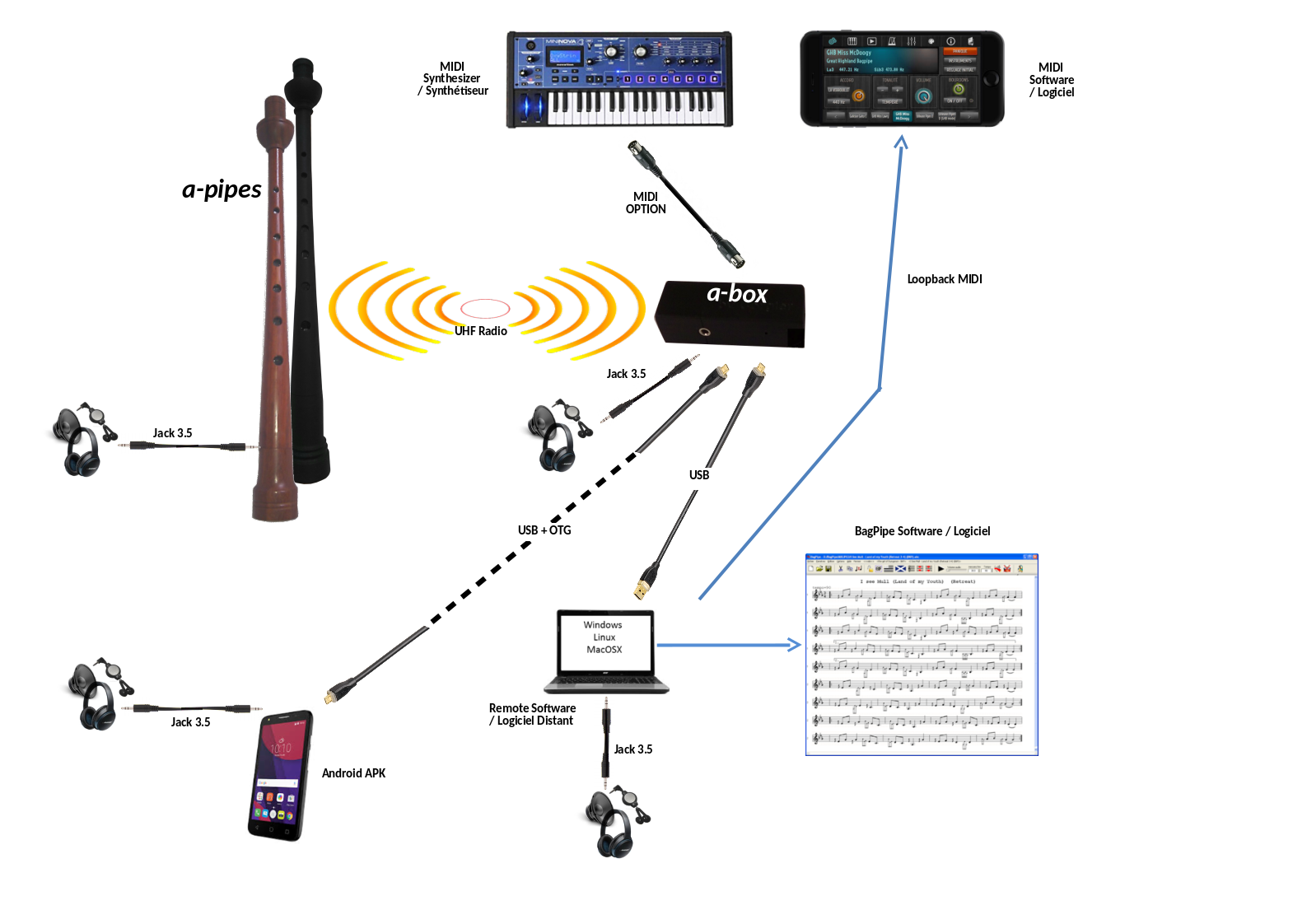 Full options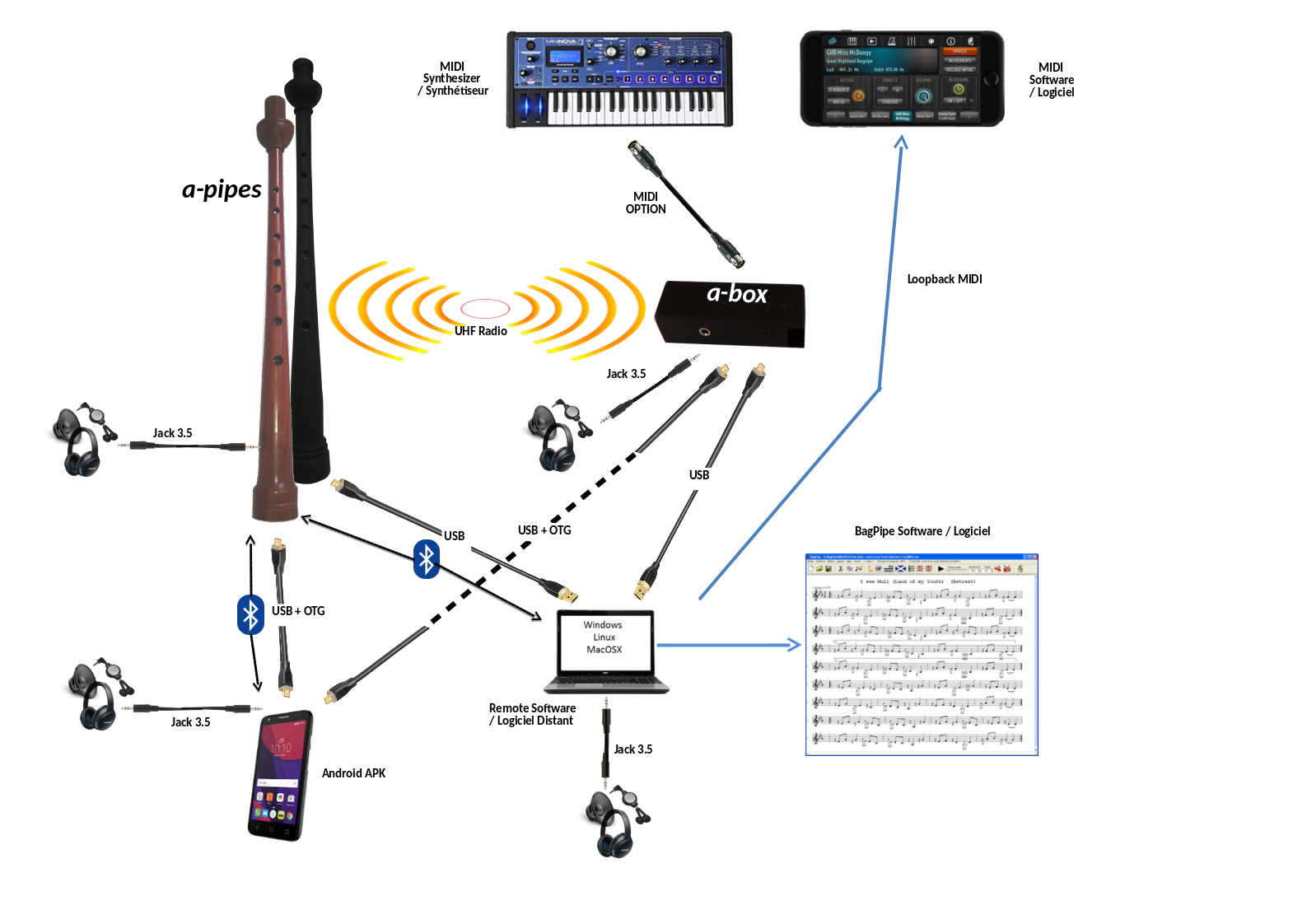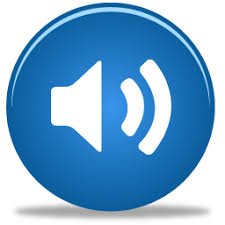 Sounds of a-pipes at 44100Hz
a-pipes sounds are made of real instruments recorded samples, played back at 44100Hz.
The a-pipes uses the same samples as "BagPipe" and "AndroBagPipe" softwares, so it will exactly sound as these softwares and, as it, tuned to A=448Hz.
Click here to listen recording in real time : metronome, operatione with and without drones (bagpipes, smallpipe in A, practice chanter, gaita in C, gaita in Bb)
Demo of a-pipes
---
a-pipes and BagPipe software in duo with second
https://youtu.be/BEtTyH7sjfI