Success !!! a brand new circuit has been designed then assembled, built for the new technologies. The result is amazing, even perfect. The device works in any condition, including deepest darkness. Battery draw has been optimized. Bluetooth is ok and can now be disabled.
Battery draw reaches 49 mA while playing and 12 mA else ; the 37 hours of theorical autonomy has been oversteped. With bluetooth enabled, autonomy is between 1 and 3 hours only.
A "battery low" alert has been added (one litle bip every 20 seconds, then doubled, trippled and so on as available power decreases).
On march the 4th, the last issue has been fixed : remotely playing through USB or bluetooth. It has been difficult to obtain the required realtime performances, but its done. Result is impressive : fluidity and audio quality are great !!!
On march the 27th, Smallpipe (thanks to Jean-Pierre Viazzo), gaïta in C and gaïta in Bb (thanks to Anej Ivanuša) samples have been added ; full gaïta fingering has been implemented, even the 3 half closed fingerings.
Implementation of sliding note on LG.
On 2016 april the 6th, sales begining.
First electronic circuits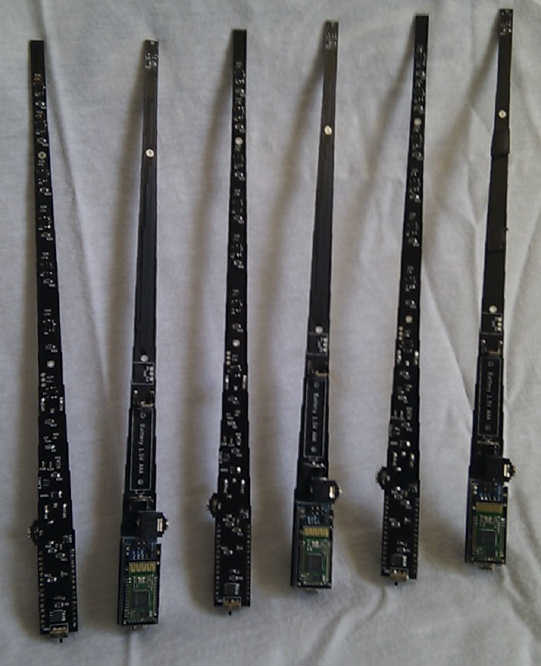 Packaging trials
On may the 26th, embedded audio sampling frequency is set to 44100Hz and bagpipes sound is replaced by Bruno Thoma's samples.
Implementation of bagpipes vibrati.
Electrical withdrawn is divided by two, one more time : autonomy is doubled again !!!